Feed driven Product campaigns for Google Ads
PPC AdWords Campaigns, which you don't find anywhere else, to help you create search ads & keywords for all products from XML feed.
Product campaign
Product search text ads as a must be campaign type. Thanks to automation, each and every e-shop in the world can benefit from them and advertise on specific products! Product names serve as keywords based on which the ads are displayed. After clicking on the ad, the user is directed to the subpage of the given product. Direct your advertising at customers who know what product they are looking for.
– ads for hundreds, thousands or tens of thousands of goods
– highly-targeted ads directed at specific customers
– advertise products people are really looking for
– achieve the lowest cost per conversion
– automatically created from XML feed
Product – Group campaign
Automated product-group search ads campaigns are the world's most unique campaign type. With them you can advertise on a group of products (2 and more). Keywords are their common features that are autonomously reviewed by the BlueWinston tool, for example: same model or variation. The ad itself directs the customer at search results in your e-shop.
– automated creation of product groups and ads
– reach higher % of potential customers
– let customers choose products according to their preferences
– maximize the conversion rate for the lowest price possible
– all feed-driven campaigns
DSA Product campaign
It is a special campaign type complementing other basic product campaigns. With DSA you can advertise on products whose keywords have low search volume and, therefore, cannot be advertised in Google Search. DSA ads show in their headline names of product pages and the success rate is based on the Google Index of your websites. The more original the content of your product pages is, the higher the chance that the quality of advertising and profit will grow!
– benefit from Google Index of your websites
– forget Low Search Volume
– DSA support product ads automatically
Brand + Product type campaign
Customers often search for products by entering a brand and a category, such as NIKE men's sneakers. With automation you can create ads for different categories and brands sold within categories easily and efficiently. Achieve high relevance score of you ads, provide customers with the ability to filter your products more deeply and buy the right item.
– automate creation of keywords for product categories
– target only at people who are looking for a brand + category
– spend time on marketing rather than manual tasks
– achieve great %CTR with BPT campaigns
Human Search Based campaign
Thanks to cooperation with very specific tool called LugisBox.com which is focusing on fulltext search results in your e-shop, we are able to automatically generate campaign through API connection of these 2 tools, which is filled with ONLY convertible searchterms from your e-shop! Result is huge improvement in average conversion rate and ROI!
– advertise on keywords people really search for to buy goods
– automate search analytics reporting and get recommendations
– do not miss out on opportunities and get an overview
– reach up to 25% conversion rate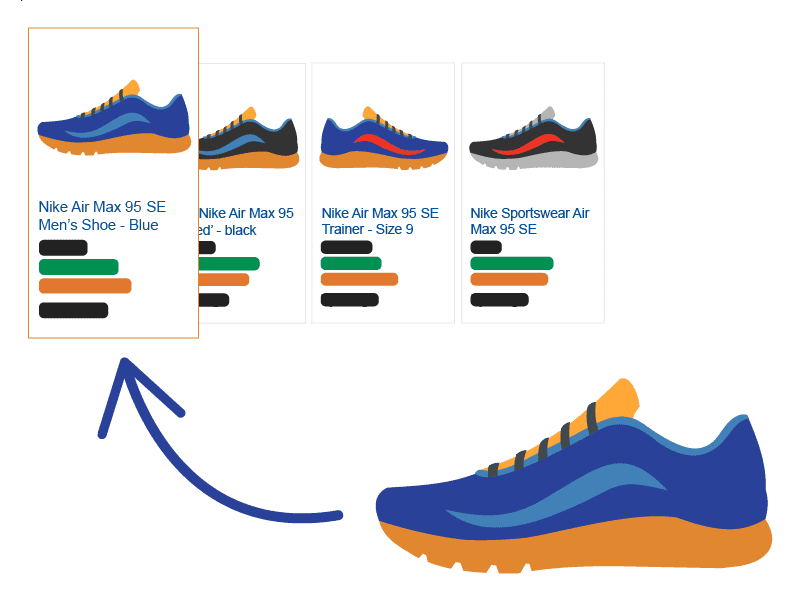 Smart Shopping campaign
We are currently working on a new campaign type that will include the creation of Google Shopping ads together with Dynamic remarketing ads in Google Display.
– automated creation of the Google feed
– advertising in Google Shopping
– autonomous dynamic remarketing in Google Display
– Smart Bidding for Google Ads
Automated product campaigns structure via BlueWinston.com
Look how your product campaigns can look like thanks to using all types of BlueWinston's campaigns and automation!