We offer amazing product ads automation features
With Bluewinston, you get a full featured tool for your marketing automation in Google Ads
"Look at

Product presentation

of BlueWinston's

main features

and campaign types to better understand our app!"
1. Intuitive "builder" for text ads with the unique "prolonging headline"
Thanks to our builder, you always know how many % of products need suitable text ads that will be approved in Adwords. We have also developed a unique function of prolonging H1 to H2 providing space for your CTA and product names!
2. World's unique Product-Group text ads for Google
The development of group campaigns took more than 5 years. Our tool is thanks to this functionality one of a kind on the domestic and international market. Advertise on product groups -> you'll reach broader and get unique customers. Your ads and targeting will be automated.
4. Per-partes method for gradual launch of long-tail Keywords and AdGroups
We create tens to hundreds of key words for each ad group/product, but in comparison with our competition, we launch them progressively to avoid the unsustainable spend and, at the same time, to achieve maximum targeted ads for the longest possible key words or ad groups.
6. Trademark, pharmacy policy and bad words
Bad words, phrases or trademarks? BlueWinston thinks about your comfort and offers fully automated solution based on communication with your AdWords account. Thanks to "Alternate BadWords" function you may ask for exception or directly define an alternate word or phrase for your ad.
7. Create in BlueWinston, manage in AdWords
BlueWinston interface serves primarily to create and set up product ads. It is built on .NET MVC systems that enabled the interconnection with API AdWords on the highest possible level and the management of campaigns directly from their Google Ads accounts.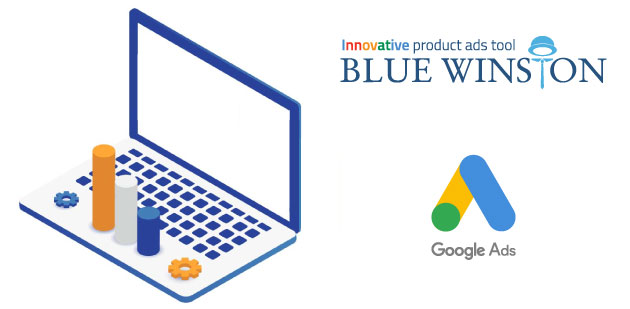 10. Synchronization every 6 hours
Your campaigns are by default synchronized and updated with your XML feed every 6 hours. Demanding clients can also request an update in every 2 hours!
SAVE TIME & AUTOMATE YOUR ADS
Book a quick 20 minute call