Still more and more retailers are switching to ecommerce and use online advertising for their products. The most widely used platform for such advertising is Google – the first place most customers go when they are looking for a product. Let's have a look on how you can advertise on this platform as effectively as possible.
Ways of advertising on Google Ads
At the time, you can advertise your products on Google in two formats – Google Shopping Ads and Product Text Ads. Shopping ads show your product in an imaginary catalog directly in Search as an image, product name, price, and a link to the product page in your e-shop. Product ads, on the other hand, do not show an image but a product description. You can enrich them with various extensions to include more information.
Both formats have their advantages and bring conversions. They work independently and individually. Therefore, they do not compete in the auction and can appear in Search at the same time. The layout varies – sometimes Shopping ads appear first, sometimes they appear on the right side, and Product ad is the first among search results.
Moreover, according to our study from BlueWinston.com with data from Google, customers who saw both ad formats at the same time were up to 90% more likely to visit and make purchase online.
What is the role of automation in this?
We are hearing more and more about automation from all sides. Google intents to implement it in its processes (we already have fully automated Smart Shopping Ads or Smart Bidding), and even small businesses are reaching for it.
Process automation is becoming an important part of our daily lives. According to information from Google Marketing Live Conference 2019 in San Francisco, Google expects that up to 30% of agencies will cease to exist in the coming years because they have not switched to automation to make their processes more effective.
Automation has several advantages:
time saving and related cost savings;
the possibility of providing services to more people, even to those who are not able to afford it financially;
simplification of the processes;
better advertising results;
creation of product ads that would not be possible manually.
E-shop owners sell hundreds, thousands or tens of thousands of products. The stock, price and availability are changing daily, even hourly. Therefore, this data needs to change in the ads in real-time, which may be manually impossible for a large number of products. Therefore, you need to use a product feed, which always contains up-to-date product information in your e-shop.
Google has automated Shopping advertising with Smart Shopping. Unlike the first, smart campaigns are fully automated and do all the work for you – you just upload your product feed to a Google Merchant Center that you have synced with Google Ads, and machine learning will do the rest. Among other, also set the best bids for your ads to get the best performance.
Smart Shopping also use dynamic remarketing, which customizes your ad to re-engage with users who have already interacted with your e-shop in some way.
If you use Shopping ads, automation is easy – just switch to Smart Shopping and watch the ads being created!
What about product text ads on Google?
Unfortunately for product text campaigns, Google has not gone this far yet so their creation cannot be automated directly through Google Ads. But that doesn't mean you can't automate their creation at all! First of all, we need to distinguish between three types of product text ads:
Classic product ads target a customer who knows what he or she is looking for. The keyword is replaced by the most specific product name, including color, model, type… After clicking on the ad, the customer gets to the e-shop, to the page with the specific product, where he or she can purchase it immediately.
This type of campaign is suitable for customers who are searching for a product but do not know its specifics (color, model, type…) or want to explore several options. After clicking on the ad, the user gets to the e-shop's search, where they can view the offer of the products and choose according to their preferences.
Finally, dynamic search ads allow you to advertise products that have low search volume status, so they aren't very well known in the market and are rarely searched for. Such ads use the Google Index and the SEO power of product pages in the e-shop.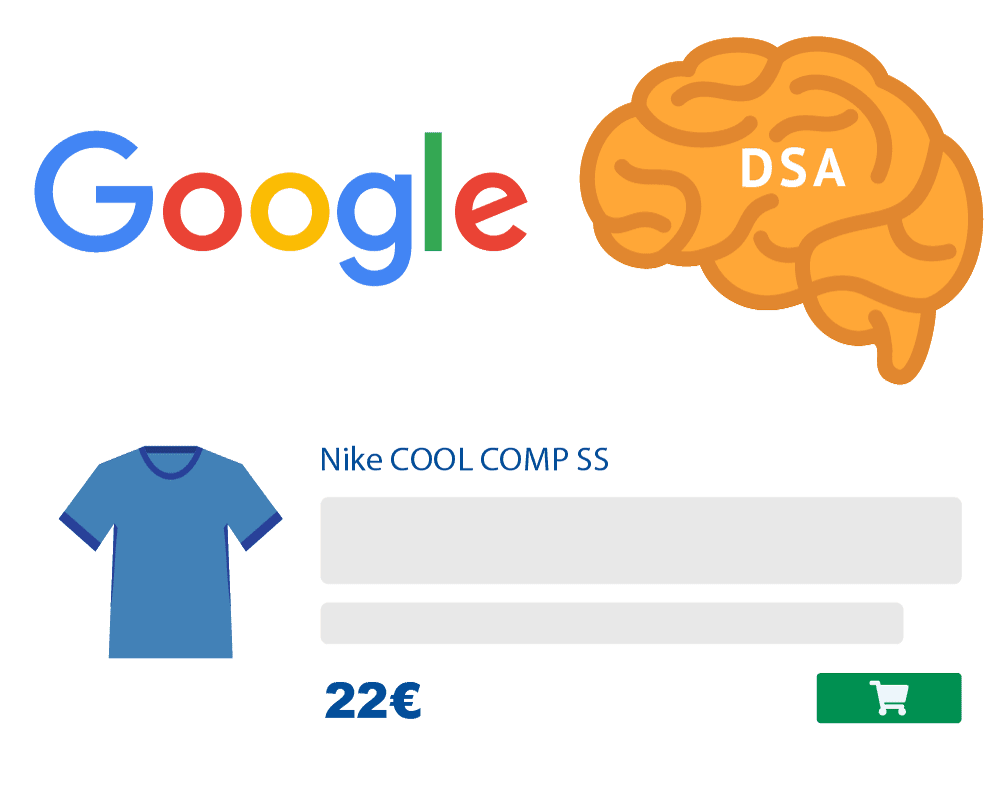 Combining these three campaign types will cover all Google search queries, as shown in the graph.
As you can see, these ads are important for making your products more visible among the public. However, manual creation of them can be difficult or even impossible with large quantities of products. So what are the options? Since Google has not yet come up with an automation option for such ads, you need to use third-party tools, such as BlueWinston. BlueWinston is a tool that lets you create all of these campaign types automatically in 2 minutes using only your product feed.