1. How to create Google Ads account
Google Ads is a system for online advertising of products and services on Google. Before you start, you need to have Gmail account. If you don't, just register here.
1. On the Google Ads page, click the blue "Start now" button.

2. Choose one of the options. It's up to you which one is the best for your future campaign. In any case, you can change it later or you can create a campaign without a goal's guidance. Also, if you want to create account without a campaign, just click the highlighted text under the campaign goals.
3. In the next step, you are choosing from campaign types. Again, it's up to you which one would you like.
4. The next window that will appear is asking you about the ways you would like to reach your goal. Choose the one you like then click "Continue".
5. Once you confirm your business information – time zone, country, and currency – you'll find yourself in your own Google Ads account.
After you done with the creation of your new Google Ads account, it's time for Google Analytics.
2. How to setup the payments in Google Ads account
The payment methods available for your account will depend on your country and currency. Without proper billing options, you can't use all the benefits that Google Ads offers. In this guide, we will show you how to set them up.
1. Log in to your Google Ads account.
2. Click the tool icon, then click on the "Billing settings".
3. Now you need to choose Payments Setup like Billing Country and Currency.
4. In the next step, you need to fill additional information like payment method, automatic or manual payments, etc.
3. How to create Google Analytics account and where to find Tracking ID
Google Analytics is a free website analytics service offered by Google that gives you insights into how users find and use your website.
1. You can sign in to Google Analytics with your Google (Gmail) account or create a new one with a different email address. Keep in mind that it should match the one you used in Google Ads.
2. Once you create your account, you'll need to set up property first. This means adding a web address where you offer your services or products. You will do this in the "Admin" section.
3. To view your settings, you need to click on "Property Settings".
4. Once you in the settings, fill all the required information like "Property name" and "url". Based on your property, you get your tracking ID that is specific to each site. This code is then required to be added to your website to collect data to create reports from. You can find detailed instructions on how to do this directly in Analytics Help.
5. Another basic step before you start using the service is to set up reporting views. Views allow you to create exactly the reports you need. You can set many of them as you want to and customize them to show specific data relevant for you. One such setting is, for example, filtering your IP address to avoid it in statistics. We suppose you don't want your activity to be included in the overall report.
Like Google Ads, you can share your Google Analytics account with others without giving you're your password. You can also find user management in the "Admin" section. You invite them via email addresses and manage their account competences.
Google Analytics is also an app, that you can download to keep your reports under thumb. You can also be informed about the activity via email. Just set your own alerts in the "Admin" section.
For advanced Google Analytics settings (especially report views), we've created a short guide to all the features you can use in the service:
4. Google Analytics transaction pixel for your website (ecommerce tracking) + Global Site Tag
After we showed you, where to find your tracking ID, it's time to show you where you will find Global Site tag.
1. Open your Google Analytics account.
2. On the left menu, click on "Admin".
3. Once you are in the menu, find and click on "Property Settings". Keep in mind that you can always create new account for your new or other website. Now, we are going straight to the point.
4. In the "Property Settings" look at your left side. You will see "Tracking Info". Select it then click on "Tracking Code".
5. This is where you will find your own, personal Global Site tag.
6. This is the Global Site Tag (gtag.js) tracking code for this property. Copy and paste this code as the first item into the of every web page that you want to track. If you already have a Global Site Tag on your page, simply add the config line from the snippet below to your existing Global Site Tag.
5. How to link Google Ads and Google Analytics accounts
You only need a few clicks to link the created Google accounts and they will take care of the statistics for you. We will show you how to do that.
1. Log in to your Google Ads account.
2. Click on the "Tools" section, then find "Linked Accounts".
3. Once you clicked on the "Linked Accounts" find Google Analytics and click on "Details".
4. In this part, you can see all of your stores. By clicking on "link" button you will link them.
6. How to create Google Merchant account
Once you have created accounts in Google Ads and Google Analytics, you need to organize the products you offer in your e-shop somehow. Here, the Google Merchant Center offers a helping hand by collecting product data that you will then advertise.
Keep in mind that you need to have SSL certificate (https://) on your e-shops, websites to run Merchant Account and Shopping Ads.
1. Sign in to the Google Merchant Account. Next thing you need to do is to fill all the information.
2. Accept Terms and Conditions then click on "Continue".
3. Choose the programs that fit your objectives. If you can't decide, choose "Skip for now".
4. In this step, you can see the review of your summary. Please don't forget to check if your business complies with Google Merchant Guidelines. After that, click on "Create account".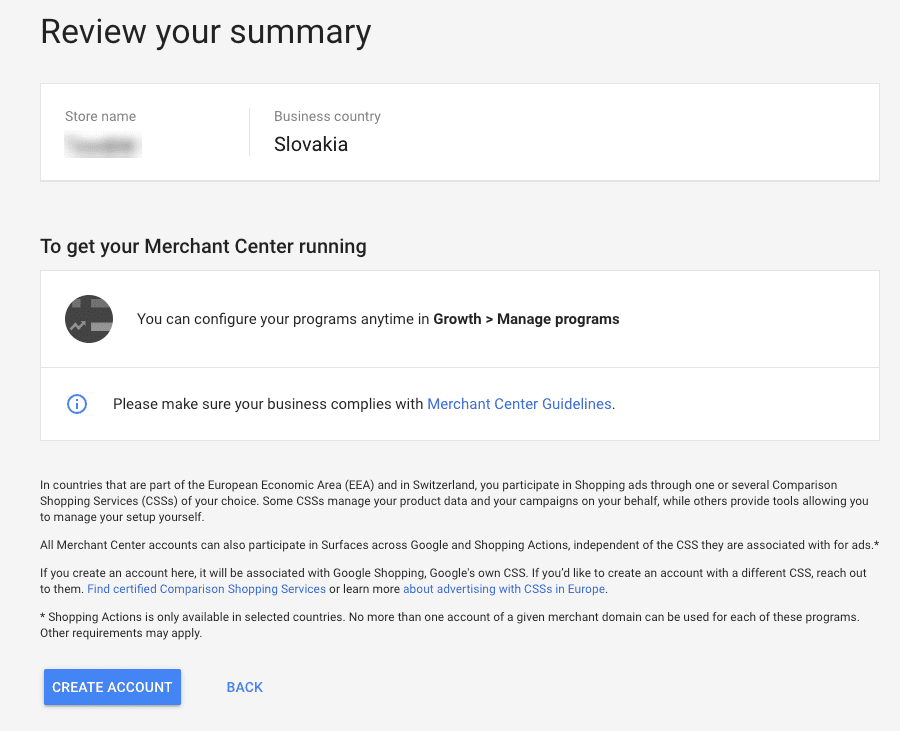 5. You will then be taken to your account where you have your own Merchant ID. In the "Business information" section of the menu, complete the required information about your business. In addition to classic data, you can also upload a logo or colors that represent your business and can be used for advertising.
6. In order to upload information about your products, you must have a verified e-shop web address. In this way, Google verifies whether you are the actual owner of the address. To learn how to verify your web address and what to do if you own more addresses, see this link.
The advantage of using BlueWinston with Google Merchant Center
BlueWinston brings you an unique opportunity to transform your common XML product data feed that you are using for creation of ads, price comparisons or Facebook, for the purposes of Google Merchant feed. These products and information will be automatically updated each 6 hours.
In addition to "storing" products, the Google Merchant Center also offers a helping hand to improve your advertising results. In the "Opportunities" tab in the left menu, you'll find recommendations on how to change your product or campaign data to make your ads more effective.
7. How to link Google Merchant and Google Ads accounts
The Google Merchant Center collects information about the products you offer in your e-shop. You can then use this data to create advertising, especially remarketing campaigns. Therefore, you need to link it with Google Ads.
To link your accounts, you need to use a single Google (Gmail) account for both your services accounts.
1. Log in to your Google Merchant Center account.
2. In the settings menu, click on "Linked accounts".
3. Now you can see your Google Ads ID. Simply click on the "Link" button to link these accounts.
4. Your request has been sent. Now log in to your Google Ads account and simply accept this request. You will do that by clicking at the "Tools & Settings > Linked accounts" then scroll down and click on the Google Merchant Center account – Details. After that you will find this request and you simply accept it.
If you prefer to see this guide in video version, check out our YouTube video.