Google shopping is the most popular ad type nowadays. They cover about 76.4% of all retail search in the US. Most eShops are keen on advertising their products on the most popular platform.
While starting out, it's only natural to look at the budgeting of your campaigns and how effective they are in driving traffic to your website. Every business needs to decide what is the best solution to advertise their products – be it a Google Shopping ad, a text ad or a combination of the two.
To help you decide, you need to consider two things: how effective the ad is and how effective the ad is and how it is going to help your business grow. Not every ad may be suited to your business, so how do you determine which one is the right one? Which ad will make you stand out the most? And how to still have a long-term profit while financing those campaigns?
This article is going to provide you with answers on the key differences between the two ad types – help you decide which type is better for your business and how to effectively profit from your ads.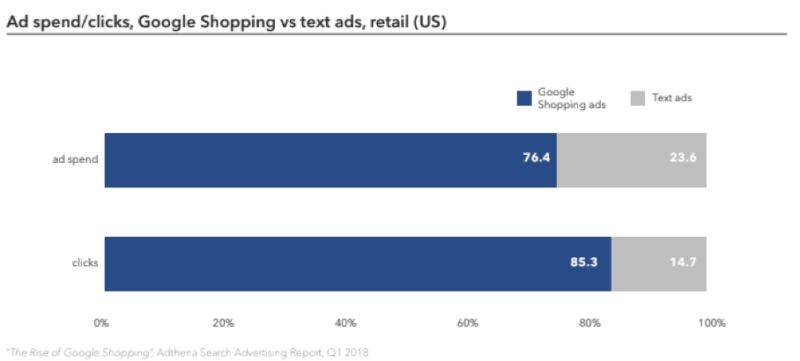 Google Text Ads (Search Ads)
Classic text ads are designed to grab buyer's attention solely through text. These ads are made up of the advertiser's domain, 2-3 headlines and 1-2 descriptions with various extensions available. However, unlike Shopping Ads, they do not display product images.
Depending on how you set them up, you may call out special offers, prices or the most appealing benefits and get conversions at the exact time a potential customer is looking for products or services.
Text Ads can be customized based on your goals or the goals of the eShop. Their flexibility means that they can be targeted to a wider range of audiences.
They are older than Shopping ads, however they still make up more than 45% of the monthly share of clicks from product advertising to eShops. With this type of ad you can attract new customers with calls to action.
How much time does it take to create a text ad manually?
Creating a text ad manually for a specific product is very time-consuming. Before you start the process, you have to take the following steps:
Research how many products you're going to make text ads for

Create a Google Search campaign

Create a separate ad group for a specific (single) product

Create and add keywords which will trigger the ad itself
So, practically speaking; by the time you finish creating a text ad for one of your products, the information you put in the ads before or even in the one you've just finished, might not be correct anymore. Not even because the description or the title of the product has changed, mainly because of the stock and the price that might have changed overnight.
Therefore, manually created text ads are rarely used due to time constraints and to a high probability that the created ad will no longer be accurate! Manual ad creation is only recommended for your best-selling products, and you need to keep an eye on them.
Luckily, there is an alternative to this time-consuming activity. You can now automate your ads with a few simple steps. For more information, have a look at this article.
Google Shopping Ads (Product Listing Ads)
Over the last few years, the popularity of Shopping Ads has significantly increased. Even in countries where Shopping Ads were just introduced, it's apparent that they are very popular amongst the shop owners as well as customers. With Google Shopping Ads, merchants can effectively drive traffic to product pages.
To simplify Shopping ads are automated advertising for your products through Google Merchant Center with the campaign elements being relatively easy to control.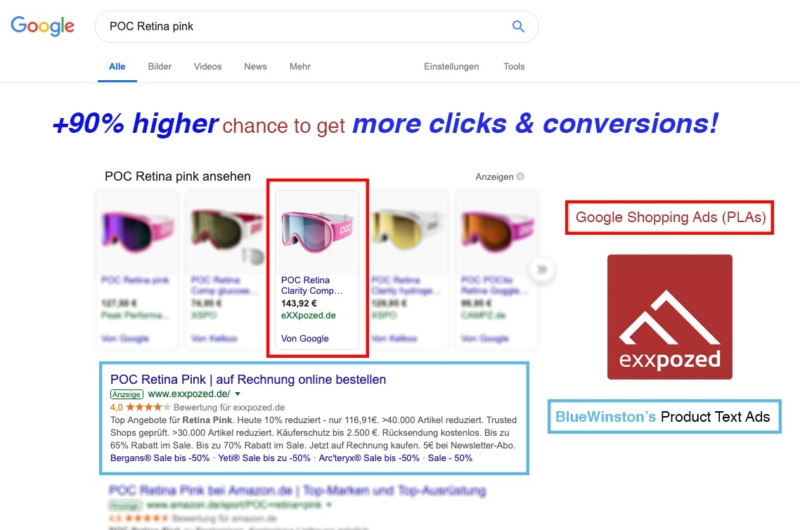 You send Google Merchant Center information about your products via a data feed. Thanks to that, you can then display your products using Google Ads advertising platform (Google AdWords) and advertise them to potential buyers in Google Search.
If you want to try it out yourself, it's important to keep in mind that you need to use proper keywords and have to rely on the popularity of the searches for the products you sell. That's why Shopping Campaigns are not really recommended as the best tool for non-branded products without search volume.
Did this pique your interest? If you use our CSS service called Shopping in EU, you can get a discount of up to 20% for Shopping and Remarketing Ads. Even for free!
Google Shopping Ads vs. Text Ads
| Google Shopping Ads | Text Ads |
| --- | --- |
| Easy implementation of multiple products | Great visibility |
| No keywords needed, potentially more chances of showing your products | More text and more content |
| They are more engaging because they contain an image | More options to stay ahead of the competition |
| CPCs are cheaper than in Text Ads | Higher chance to land the click |
| Strict rules regarding the content of images | Not suitable for products / ads with long titles |
| Ads show limited content | They are more complicated to edit than Shopping Ads |
| Not allowed in all countries | CPCs can be more expensive than in Shopping Ads |
Is there a way to avoid creating ads manually?
There are multiple ways to save your time while creating your ads. One of them is to automate the ad creation process. If the tool is good, you should be able to have thousands of product ads generated in a few minutes! That does save you a lot of time, don't you think?
Let's take a look at the tool provided by BlueWinston.com. To automate your ads, you need a common XML product data feed, which is now used by almost every eShop for advertising. You simply enter the URL address of your product feed into the tool and let the tool do everything for you! There's also a function called Product Ad Template, which ensures that text ads are created for your entire product catalogue!
It's easy, fast, reliable and the important thing is – your ads will be perfectly accurate while you can use the time to do something else.
What are the benefits of automated text ads for products?
Product conversion – you can create text ads for every single product in your eShop! Products that might've not been popular can get more recognition!
Easily maintained – you can manage text ads, create variations of them and have a full control over them.
Filtered and defined product campaigns – especially for products that you really want to get out there
Long-tail keywords – these will help you to find new keywords that are far less competitive
High conversion rate – from highly targeted ads for a very specific group of shoppers
6 hours update cycle – always up-to-date ads!
Automatically monitored – if you implement a sales promotion or a product is out of stock, sales activities and stock levels are automatically updated and adapted in your ads. Therefore, you're not promoting something inaccurate.
What about the combination of Text and Shopping Ads?
A Google study says that potential customers who see both product text ads and Google Shopping Ads with product images are more than +90% more likely to click on the ad and make a purchase.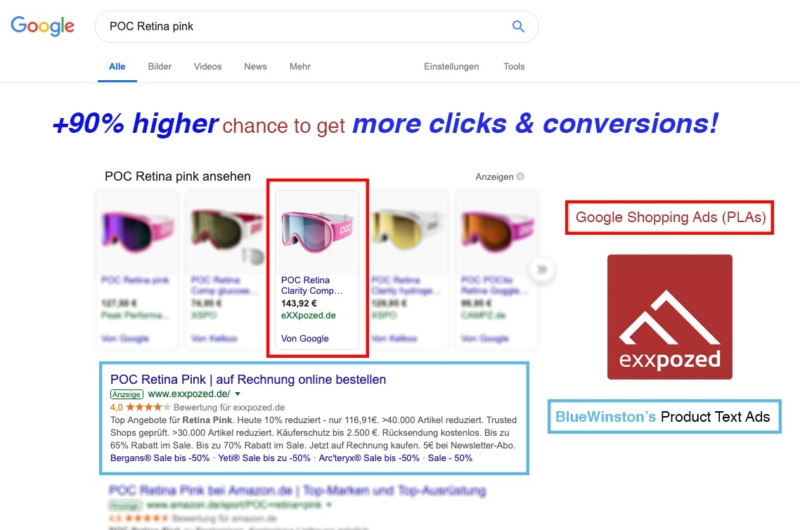 Our client, who is using both Text and Shopping Ads has about +73% more clicks than the client, who is in the same market segment without using both simultaneously.
This is because advertising through both types of ads can get you more recognition. If you think about it; many people buy with their eyes (if not all of us) while some don't really care about how the product looks as long as the specifications are suitable for them. Thus, having both Text and Shopping Ads running at the same time can attract more customers.
What are the advantages of this combination?
Higher clickthrough rate = higher CTR
Higher conversion rate = more purchases made
Wider reach to potential audiences = since everyone prefers a different kind of approach while considering a purchase
Better optimization of campaigns = it is better to advertise for some products with Text Ads and for others with Google Shopping Ads
Bigger turnovers!
Now it is only up to you to decide which type of ad is right for you. Will it be a Text ad or are you more leaning into Google Shopping Ad? Anything you decide, advertising on Google is definitely the right step for you and your business. Good luck!