Should I advertise products via Product Text Ads, when I already use Shopping Ads?
If you are an e-shop seller, who advertises, and you come from a country where Shopping Ads are allowed, you are, of course, the luckier "half". Shopping Ads are huge potential to engage with new customers via product-image ads in Google Search. Countries, where Shopping Ads do not exist, there is and for a long time will be only the option for product text ads.
The question is, is it worth to advertise via text ads also when you are running them in Shopping? Yes, it is indeed! But before making a conclusion, let´s speak more about these types/formats of product ads.
What are Shopping Ads?
They are basically an automated advertisement of your products via Google Merchant Center, where you are sending information about your products via a data feed.
Then, thanks to Google Ads, you can display those products and advertise them to the potential customers in Google Search.
What are the benefits of advertising via Shopping Ads?
higher traffic (higher %CTR rate, mainly because of great positioning of those ads at the top of the search)

better targeting, because the images, titles and concrete prices of products are displayed, and the potential customer chooses what he is interested in and then clicks

useful reviews of competition

possibility to filter and advertise only the chosen products or groups of products, based on their manufacturer´s categorization, product prices, or some selected characteristics (such as size, color, destination, etc.)
The products can be advertised also via original text ads
Text ads were here the first. They still constitute more than 45% of the monthly share of click-through rates.
The product advertisement directs to e-shops mainly thanks to text ads where you can beautifully engage with the shoppers and use marketing methods and experience while creating ideal text ads and CTA calls.
How much time does it take to create a product text ad manually? In the usual way?
Manual creation of campaign for your products takes at least 10 minutes and then AdGroup filled with keywords and text ads at least 7-8minutes for each single product!
Manual creation of text ad for a concrete product can be quite time-consuming. Before you get to create the text ad alone, you have to find out how many products you actually want to advertise, and then create a campaign for Google Search, create a group ad for concrete (one) product, create and add keywords to the ad will be displayed to.
Nowadays, manually created text ads of products are not being done that often, mainly for the time-related reasons and high probability that the ad may not be up to date the second day, because the product is no longer in stock or being sold generally or its price has changed. Manual creation is recommended when you have bestsellers (the most selling products, when you can keep an eye on them).
Today we already have tools for automatization of product text ads.
Automated alias Feed Driven Product Text Ads are the solution
Thanks to the BlueWinston.com tool, you can easily, rapidly and mainly reliably, create text ads and product keywords for tens, hundreds, thousands or tens of thousands of products in several minutes. All you need is a simple XML product data feed, which is now used by almost every e-shop to advertise in the price comparator or to build the Shopping ads we talked about above through Google Merchant Center.
Simply insert the URL address of your product feed to the tool and it will manage the rest for you. You can get at rocked speed to the point of creation of text ads for your products, which you will promote in your product campaign, where you can easily create a product ad template that will be replicated for each product. This way you can get text ads for all your products within a few minutes.
What are the benefits of automated Product Text Ads?
you can create text ads for every single product in your e-shop → you will gain the huge potential to discover new potentially converting products that your customers were not interested in before
you can easily manage text ads, create changes and keep them under control
you can filter and define product campaigns for products that you really want to contain, based on various rules and filters that you may have not met within Shopping ads yet
gain product long-tail keywords fewer competitors advertise to
highly targeted ads to a very specific group of shoppers, where is a high rate of conversion
updated at least each 6 hours
finding out whether the chosen product is still on sale (in stock) and if it is out of stock the ad will be automatically paused until it will be in stock again, saving you time and money

many other benefits that Shopping Ads do not have
Feed driven product text ads (automated) campaign for thousands of products takes only 5 minutes! After that you do not need to spend any minute for auto sync and update.
See what e-commerce merchants are saying about Feed driven text ads?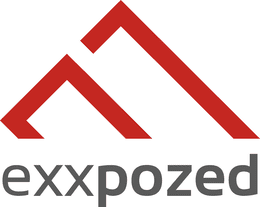 Andreas Bindhammer – well known german representative in sport climbing who became german's master is the owner of Exxpozed.com & Exxpozed.de. An online store that specializes in outdoor clothing, climbing equipment, and sports equipment. With the use of both advertising formats such as product text ads and shopping ads, they generate more profits! 
TonerDepot.cz – It's an online and one of the biggest Czech store that has been selling ink cartridges for years. "We have always had issues with updating our product campaigns in Google Ads (AdWords), whether it was an update of price, stock quantity, keywords, or adding and editing new product text ads campaigns. Since we started to use BlueWinston's tool, we can pay more attention to other e-commerce activities. Amazing tool for our online segment!"
AndreaShop.sk – A well-known online store that sells a wide range of electronics, white goods, and other product segments. A great shopping mall in Slovakia. "Since we have started using the BW, our profits in Google Ads have increased. The application is continuously being upgraded and the number of functionalities is growing, too. Until now, we have not had any negative experience."
Should I advertise via text ads and Shopping Ads simultaneously?
We have highlighted the main benefits of automated product text ads in Google Search above. For those who advertise in countries where Shopping Ads do not exist, this is, of course, the only way BlueWinston.com can help with its unique types of product campaigns. However, we are often getting this question from advertisers in Shopping Ads. As we have already mentioned, the answer is very simple and straight-forward: YES!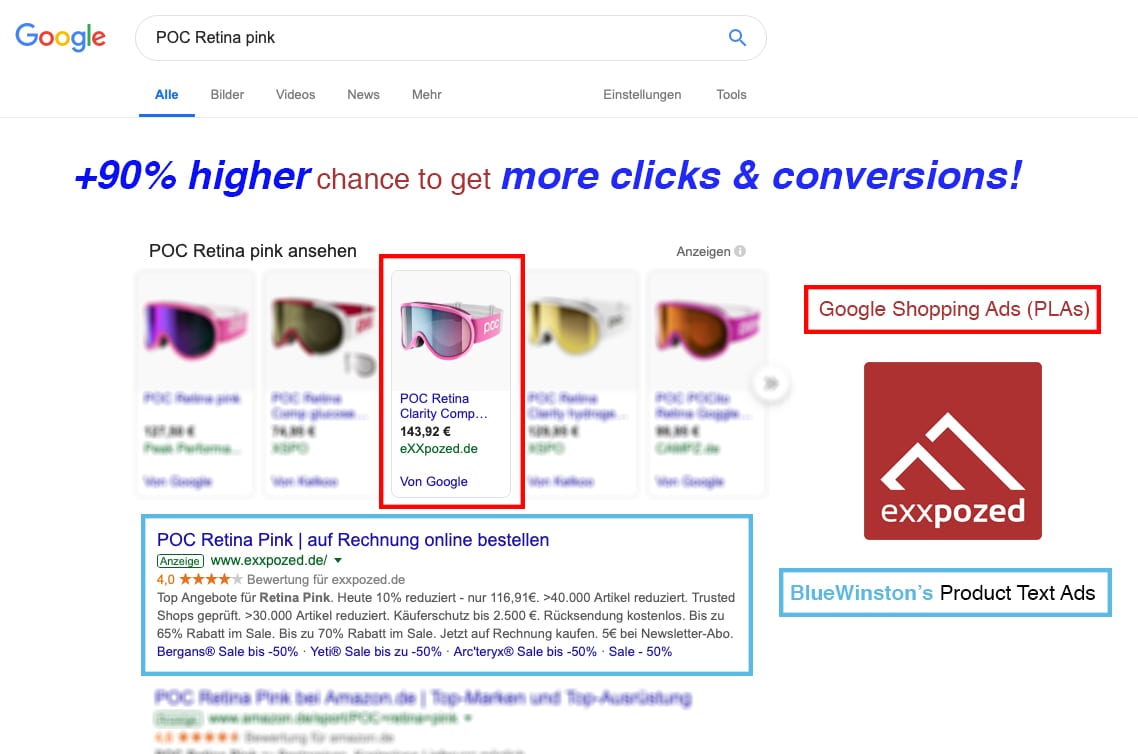 Advertise via both, text ads and Shopping Ads!
Google study says, that there is more than a 90% higher probability of clicking the ad and making the purchase itself for those people, who see product text ads in Google Search as well as product image Shopping Ads from the same advertising e-shop.
What are the advantages of using both formats of product ads?
higher click-through rate = higher %CTR,
higher conversion rate = more purchases,
wider reach for potential audiences, more approached customers = because of not all of them like the image ads and vice versa,
better campaign optimization because over time it is better to advertise some products via text ads and sometimes through Shopping Ads,
higher revenues!